| | |
| --- | --- |
| COASTAL/HOLZ RZR XP BENDS A WHEEL & BREAKS 12 HOURS | |
Racer and Race Team Profiles and NEWS!
Come here and tell us about your UTV racing career and team! Post your press releases and Show off your race vehicles and what makes them different!
| | |
| --- | --- |
| | |
08-28-2012, 01:48 PM
| | | | |
| --- | --- | --- | --- |
| | UTVUnderground Is Full Of WIN! | | |
COASTAL/HOLZ RZR XP BENDS A WHEEL & BREAKS 12 HOURS
---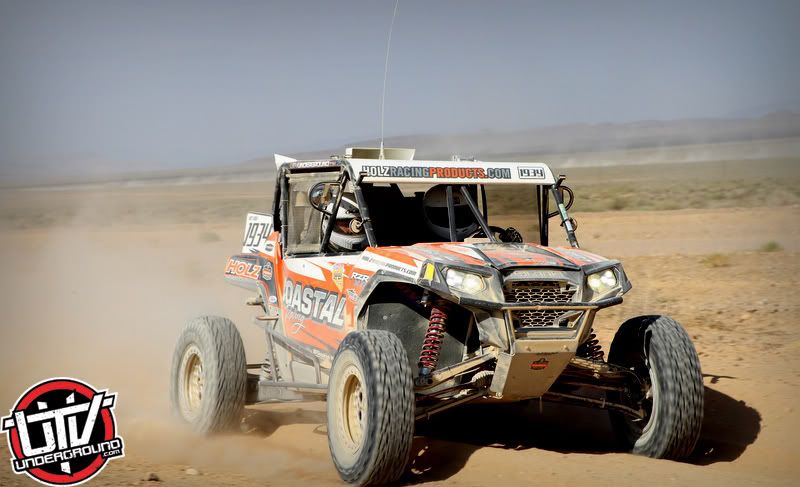 COASTAL/HOLZ RZR XP BENDS A WHEEL & BREAKS 12 HOURS
KIGER, HOLZ & YOKLEY WIN THE BEST IN THE DESERT VEGAS TO RENO!
Lynden, Washington (August 21, 2012)
– Fresh off the heels of their Silver State 300 win, the Coastal/Holz RZR XP posts their second straight win — finishing the 534 mile Vegas to Reno in 11 hours 41 minutes — the first time a UTV has finished in under 12 hours. Billed as the longest off-road race in the U.S. it is a grueling test of durability and strategy for the 20+ UTV teams entered this year.
For this years Vegas to Reno, the Coastal/Holz team ran three drivers: William Yokley left the line a little before 7:00 am and put in a solid performance for the first 100 miles. From the start it was apparent this was going to be an all day battle. Yokley put in what he considered a safe pace, gaining positions and leaving a solid car for a driver change at Cottontail/Pit 3 where Scott Kiger would take over. "I knew I couldn't win the race in the first 100 miles, but could lose it." said Yokley. Kiger took over and the battle was on. Jagged- X, Murray and Coastal all were running within minutes of each from here on out.
The Coastal/Holz team fielded three chase teams with support from Coastal's GNCC team and RJ Anderson & Brain MacLean from Walker Evans Racing and Barry & Mike from Race Prep Services.
The team had a solid run going, suffering one flat headed into the next driver change at Pit 9 Redlich. The Murray team came into Pit 9 just seconds ahead of the 1934, with each team planning a driver change. Upon an inspection of the car, Anderson noticed a torn CV boot, within 7 minutes the team had changed the right rear drive shaft and was back on course with Holz behind the wheel. (While Kiger and Yokley hopped on a plane to head back east to Des Moines, IA for the 4-hour Heartland Challenge UTV race.) Between Pit 9 and 10, Holz got to work, gaining back 6 minutes on the 1917 of Murray in the 28 mile section.
After Pit 11, the 1934 would pass Murray for the lead and never look back. Through the rock strewn desert and monster silt beds the
1934 would keep making time. Headed into Pit 13, news came over the radio that 1932 Jagged-X of Parks was closing. After 422 miles of racing these cars were within seconds of each other. Everyone heard the first vehicle coming in to the remote Rawhide Pit and assumed it was a Trick Truck — nope it was the Kroyer motored RZR with a failing exhaust. RJ Anderson grabbed the cordless and popped a few holes into the side of the muffler for added breathing, took a quick 10 gallons of fuel and was back on course for the 130 mile sprint to the finish. With speeds nearing 80 mph the Kroyer motor was pulling strong to the finish.
A slight off course excursion into the rocks at 60 mph after Pit 14, had the team wondering if their day was done. Back on course and underway the car came out no worse for wear other than a bent rear wheel confirmed by Matt Parks and the Jagged Team at Pit 15. Choosing to run it in, Holz powered on the last 46 miles looking to stay out front of the Trick Trucks and finish strong. Hats off
to all racers who finished this beast and especially anyone who endured the last 20 miles of rocks.
The Coastal/Holz RZR XP crossed the line with a fist sized hole in the muffler, bent right rear wheel and 11:41 on the clock almost two hours ahead of last years winning time with the support of Polaris Industries, Walker Evans Racing, Holz Racing Products, Kroyer Racing Engines, Utendorfer Graphic Design and Race Prep Services.
Next up the Coastal/HRP RZR XP will compete at the Best in the Desert Bluewater Desert Challenge on October 12-14th in Parker, AZ, while the Coastal GNCC team readies for ITP Power Line Park October 6-7th in Ohio, and RJ Anderson and the rest of the HRP UTV Racers will be ready to do battle and finish out the 2012 WORCS Series September 14-16 in Taft, CA.
08-28-2012, 02:11 PM
Rhino Parts & Performance - Official UTVUnderground Sponsor

Join Date: Oct 2009

Location: AZ

Name: michelle hoffman

Posts: 185

Rep Power:

6
Re: COASTAL/HOLZ RZR XP BENDS A WHEEL & BREAKS 12 HOURS
---
Nice!
08-28-2012, 02:17 PM
Official UTVUnderground Sponsor & Founder

Join Date: Jan 2009

Location: North County Dago

Name: Magnum Dan

Posts: 909

Rep Power:

13
Re: COASTAL/HOLZ RZR XP BENDS A WHEEL & BREAKS 12 HOURS
---
So Awesome!!! Congrats guys, you really put on quite a show!
__________________
MAGNUM OFFROAD
760.727.0450
Posting Rules

You may not post new threads

You may not post replies

You may not post attachments

You may not edit your posts

---

HTML code is On

---
All times are GMT -7. The time now is
08:47 PM
.
Powered by vBulletin® Version 3.8.4
Copyright ©2000 - 2013, Jelsoft Enterprises Ltd.
vB.Sponsors
Copyright UTVUnderground.Com...You steal, You Die!
vBulletin Skin
By:
ForumThemes.com