| | |
| --- | --- |
| Friar Engineering Racing John Deere XUV852i Gator - Parker 250 Race Report | |
Racer and Race Team Profiles and NEWS!
Come here and tell us about your UTV racing career and team! Post your press releases and Show off your race vehicles and what makes them different!
| | |
| --- | --- |
| | |
01-17-2012, 11:28 AM
| | | | |
| --- | --- | --- | --- |
| | UTVUnderground Is Full Of WIN! | | |
Friar Engineering Racing John Deere XUV852i Gator - Parker 250 Race Report
---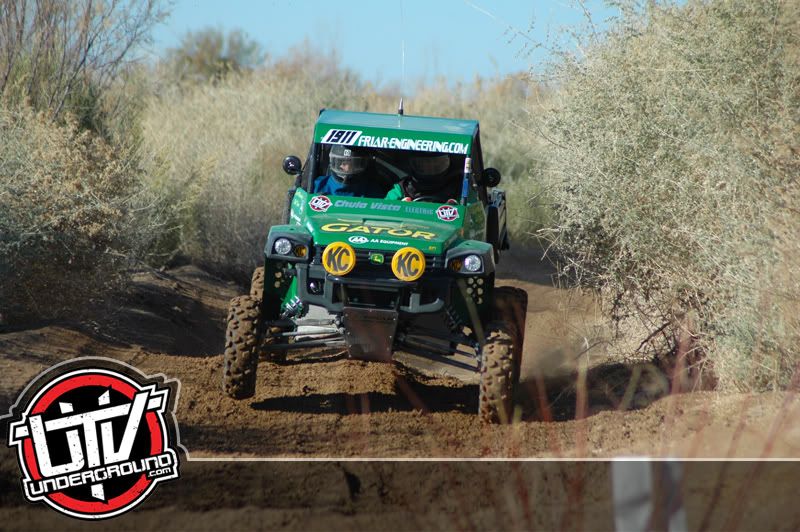 On January 7th the Friar Engineering Racing John Deere XUV852i Gator competed at the Best in the Desert THR Motorsports Parker 250 in Parker Arizona, the first of the 6 race series. This event was a single day race for Motorcycles, ATVís and UTVís contested on a 79 mile loop. Typical of Parker Arizona there was lots of sand, a great rock section, high speed roads and some of the best rolling hills anywhere. The UTVís had to complete 2 laps for a total of 160 miles. The Friar Engineering John Deere XUV825i Gator was driven the first lap by Scott Martinez and the second by Matt Krimple with Dustin Brodwolf co-driving both laps. Everything went well; the car ran flawlessly with no problems of any kind, finishing in 5th place in the Pro UTV class out 17 cars. What else is noteworthy is that out of the five manufactures represented in the Pro UTV class the Friar Engineering Racing John Deere XUV852i Gator put John Deere in second. This event also set a new entry record for Best in the Desert with 23 cars entered between the 3 UTV classes. Check out
Best in the Desert Off Road Racing
for the official results and
www.UTVUnderground.com
for more details and pictures from the race.
Thank you to all of our sponsors, Fox Shoxs, Douglas Wheel and Tire, PRP Seats, KC Hilites HID Lights, Team Clutch, Tire Balls, Odyssey Battery, FMF Exhaust, Completive Metals, IMS Fueling systems, Racer X motorsports and Phoenix Specialty Printing. Without your products and support, and the support of AA Equipment, AROS Trailer Supply, Chula Vista Electric, UTV Underground and Fast Aid this result would not have been possible. As we do at all of the races, the race car was on display at contingency to be viewed by all of the fans and spectators.
We are looking forward to the next race the BITD UTV series, The General Tire Mint ď400Ē March 23-25. We will be on contingency row in Downtown Las Vegas on Fremont Street, and as always out on the race course. In addition, look for us on display in contingency at the next BITD event the Parker 425 February 3-5 in Parker Arizona.
In closing, let me extend a special thank you to Casey Folks, his staff and volunteers, at The Best in the Desert Racing Association for putting on a great race.
Thank you,
Scott Martinez
Pro UTV 1911
Tags
250, deere, engineering, friar, gator, john, parker, race, racing, report, xuv852i
Posting Rules

You may not post new threads

You may not post replies

You may not post attachments

You may not edit your posts

---

HTML code is On

---
All times are GMT -7. The time now is
03:21 PM
.
Powered by vBulletin® Version 3.8.4
Copyright ©2000 - 2013, Jelsoft Enterprises Ltd.
vB.Sponsors
Copyright UTVUnderground.Com...You steal, You Die!
vBulletin Skin
By:
ForumThemes.com