| | |
| --- | --- |
| Polaris Ranger Crew San Felipe Shakedown by Bink Designs & High Rev Photo | |
UTV Product Reviews
UTV Product Reviews UTVGuide.Net
| | |
| --- | --- |
| | |
09-27-2011, 09:25 PM
| | | | |
| --- | --- | --- | --- |
| | UTVUnderground Is Full Of WIN! | | |
Polaris Ranger Crew San Felipe Shakedown by Bink Designs & High Rev Photo
---
Polaris Ranger Crew San Felipe Shakedown by Bink Designs & High Rev Photo
Wednesday, September 28th, 2011
This is the ultimate test: Desert, sand washes, silt, and whoops all at a scorching 115 degrees. It was the San Felipe SCORE Challenge of Champions. Joey, owner of
http://UTVunderground.com
was aware of Bink Designs and High Rev Photography's need to be able to access remote locations through challenging terrain. Joey felt the 6-seat Polaris Ranger Crew would be a good choice to loan us to test over the race weekend. It's 4wd, Electric Power Steering (EPS), Storage and seat room seemed ideal for the trip at hand.
He was right. During race day, we soon realized the Polaris Ranger Crew is definitely a workhorse machine. The Ranger Crew seats 6 people and with only 3 of us in it we all had plenty of room to breathe. The suspension on the Ranger isn't on the same level as the RZR lineup so we weren't expecting to be able to blast through the desert in it, but the ride was surprisingly nice over smaller whoops. The extra weight of the Ranger Crew helped keep the UTV low to the ground, which helped reduce any body roll. Navigating through the rough, we found ourselves puckering up a few times due to the longer wheelbase, but overall, it was a smooth ride.
One thing that the Polaris Ranger Crew doesn't lack in is storage. Underneath the front seat, was a compartment that was able to store all of our camera bags, tools, tow strap, and other items we wanted to keep out of the dust. This compartment can also be used as a large cooler. The utility bed had plenty of room for a large cooler as well as a 5-gallon gas jug, all while still leaving more room to spare.
The 4x4 was great to have and saved us a few times in soft areas near the course. The option to have it in 4wd, 2wd locked, or 2wd "one tire fire" was also nice driving around town as it was easier to maneuver on pavement. Surprisingly, we were able to drive up the Sand Dunes in San Felipe with one wheel drive!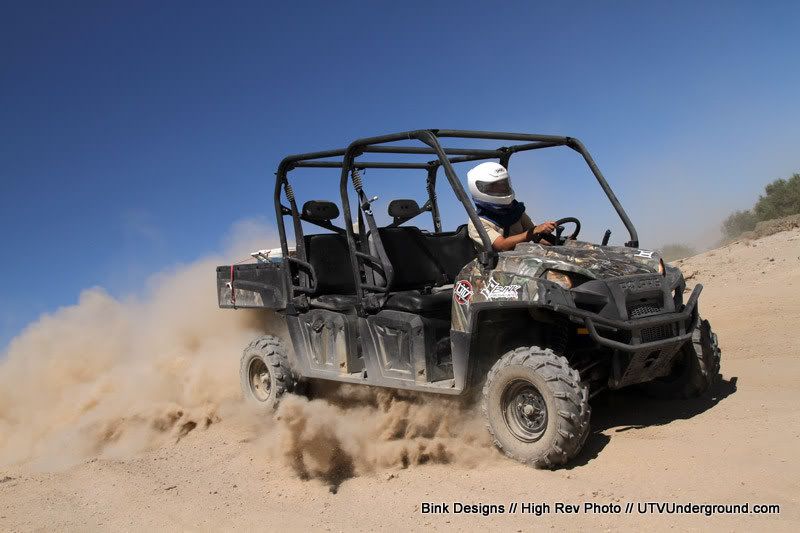 "We always have safety in mind and this Polaris Ranger Crew was able to get us through the desert safely. Because of that, we were able to get some spectacular photos over the weekend!"
stated Brian Binkert owner of Bink Designs.
If you are looking for a UTV to have fun flying around in the dunes or the desert, the Polaris Ranger Crew might not be the choice for you. What this UTV does do well is get you, your friends, and a ton of gear from point A to B in a comfortable fashion. It's perfect for the pits, on the farm, or anywhere you need a reliable workhorse.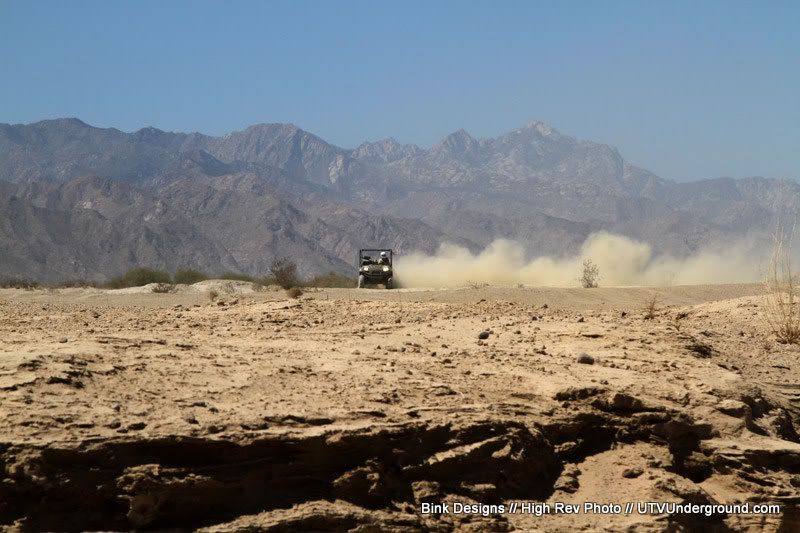 "The Polaris Ranger exceeded our expectations and proved to be reliable throughout our trip to Baja."
stated Jason Zindroski owner of High Rev Photography.
We want to thank UTVUnderground.com and Polaris for letting us borrow the beast in San Felipe! We Look forward to more UTV adventures soon!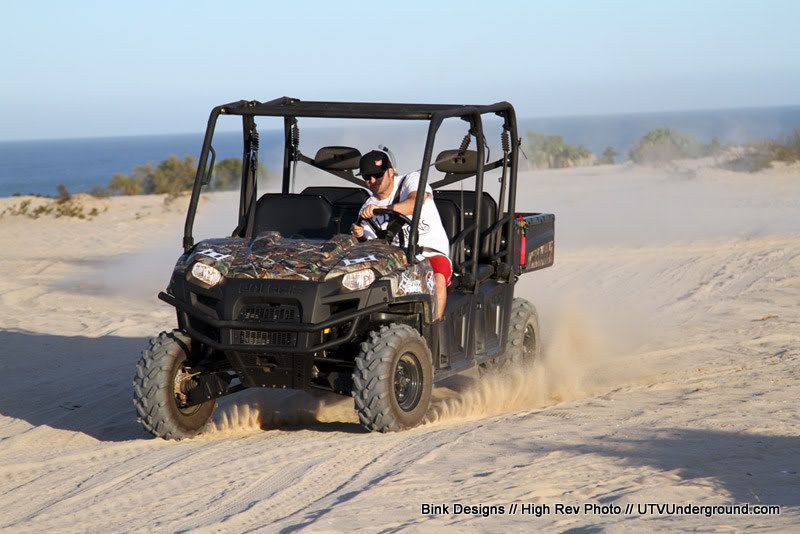 For more information on the Polaris Ranger and other UTVs, check out UTVUnderground.com
Photography by Brian Binkert
Bink Designs – BINK DESIGNS - Affordable Graphic Design Services in San Diego, California

Photography by Jason Zindroski
High Rev Photo – HighRev Photography - Photography of Jason Zindroski, offroad, motorsports, product photography
---
Last edited by JoeyD23; 09-28-2011 at

09:17 AM

.
Tags
bink, crew, designs, felipe, high, photo, polaris, ranger, rev, san, shakedown
Posting Rules

You may not post new threads

You may not post replies

You may not post attachments

You may not edit your posts

---

HTML code is On

---
All times are GMT -7. The time now is
02:31 PM
.
Powered by vBulletin® Version 3.8.4
Copyright ©2000 - 2013, Jelsoft Enterprises Ltd.
vB.Sponsors
Copyright UTVUnderground.Com...You steal, You Die!
vBulletin Skin
By:
ForumThemes.com