The 2015 BITD season is over, and the Pro UTV class had a pretty intense championship points race between myself Justin Lambert of the Cognito team, and Johnny Angal of the UTV Inc. team. The season winner would boil down to the final 2015 race, the Henderson 250. Coming into Henderson, Johnny had a 9 point lead on us, and with the throw out race, he would lead us by 7 points. Our class would get 2 laps on the 80 mile course, unlike the unlimited trucks that would get 3 laps in their race later in the day. In the Pro UTV class, there were 28 entries pre-registered, and 4 more late entries for a total of 32, except 2 pre-registered racers did not show up to tech on Friday, thus the car count was 30 for the race.
As usual, we as a team had decided that we were racing for the win, we just don't have a conservative effort in our bones at the start of a race. We are aggressive and we come to races to win, and if we need to get conservative the last 10% of the race, we will make that decision while behind the wheel. We figured that if we could win the race and Johnny finished 3rd, that we would tie for points and clinch the championship since we won more races this year than Johnny had. If we finished off of the podium, we would have to beat him by more positions. Johnny drew 24th starting position, and we drew 9th. This means Johnny has more dust to drive thru than we do, so it might give us an edge but in a desert race there are a hundred factors that could change that.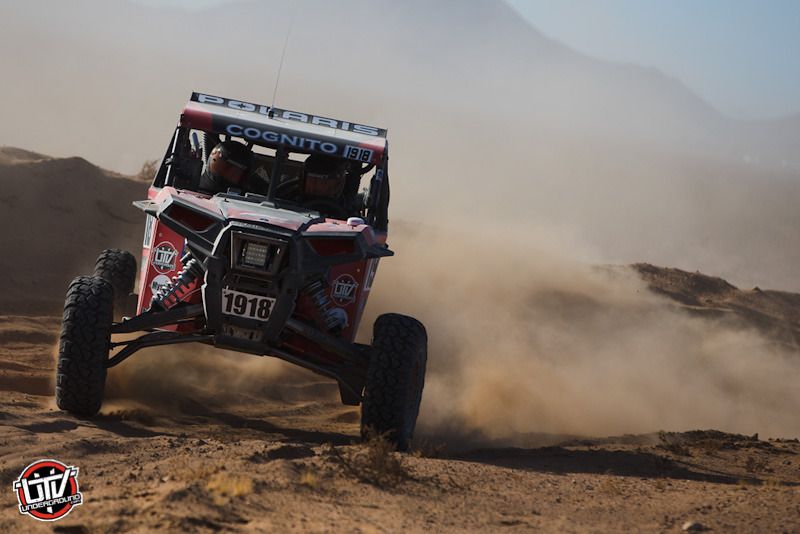 This early in the day, there was no breeze, and that means the dust does not move off the course, it just hovers like a thick fog. We were off the starting line and into the desert, catching up to the lingering dust just 3 miles into the course which slowed us down slightly. By mile 10, the dust was so thick that we had to back off again, as the course was not visible and there is that chance of a large rock on course that can't be seen until it is too late. A bowling ball sized rock can cripple these small UTVs and even throw a knockout blow. We started to pick up the pace, it was a gamble but we were willing to chance it, we came to win a championship, or downright lose it with a knock down drag out fight. I kept thinking about Johnny hunting us down like a horror movie, then peaking around the corner and making that crazy face from the movie 'The Shining' and say 'Heeere's Johnny!'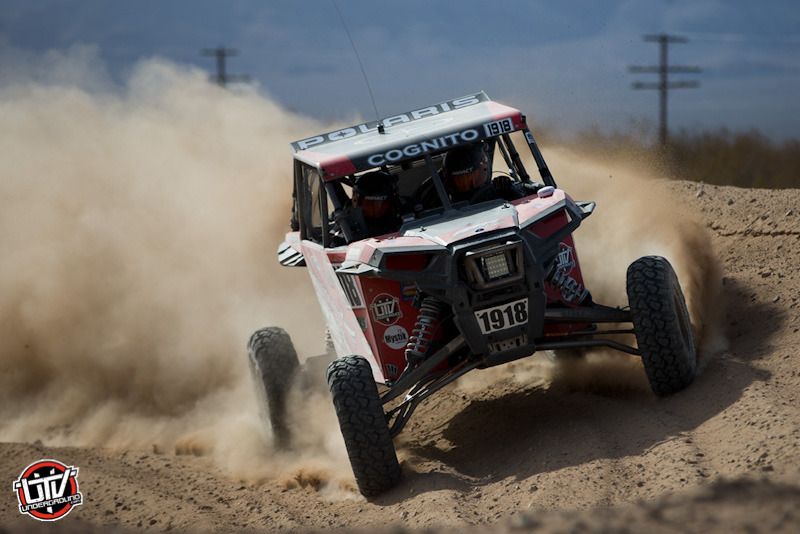 A blue flashing light in the dust was about 50 yards in front of us, we had caught Simms around RM20 and didn't want to let him get away nor keep driving in his dust. We stood on it and got closer to him, just following those rear facing lights, then BANG! We smashed into a boulder on the right side, my co-driver Justin Sheakley yelled at me but we had to get around our competitor, we were not going to win by following people around in the dust. Before we could even see straight, BANG! We smashed into another one, but didn't stop although the steering wheel was now off about 90 degrees. One more large rock, this time on the driver side, we were hitting everything except the pace car. Soon after, we were on Simms bumper and he let us pass, we were all over the place as the car wasn't handling good anymore. We figured flat tires, bent steering or lower control arm. I was pretty amazed that we were still moving forward after that kind of bashing, the dust hides these rocks until it's too late to move at those speeds.
Stopping at alternate pit, the guys told us the lower right control arm was bent and the tire was lying over quite a bit and the axle was touching the lower arm. We had just come 12 miles like that and we were not hearing any crazy noises, so I said 'we're going!', and they moved out of the way as we got back on course. It was a gamble but we were running from Johnny. A tire had a slow leak and we stopped at main pit to change it and our support crew took another look at the front right corner. The axle was wearing a groove into the cross tube of the lower arm, we already knew we had to roll the dice and keep going, and we did. The car was a bear to handle that way, but we did it for 140 miles of that 160 mile race, I think we went a few miles further then everyone else as we were all over the course! We made it to the finish, turns out in 4th position and only two and a half minutes behind the winner.
Johnny had issues on lap one so we easily made up enough points on him to win the championship, so we thought. We were celebrating, and no other team or official at that point realized what happened. We loaded up and started to head home to Bakersfield, then we got a call an hour into the ride home, that Bill Schueler handed us the bad news. This race became Johnny's throw out race since he only finished 22nd, and since there were only 30 entries. We actually lost the championship by 2 points after the throw out, 739 to 737 points. If there were 32 entries we would have won, if we could have finished 3rd then we would have won, but obviously there were what ifs all season long. Congratulations to Johnny and his team, it was quite a battle all year long!
The Cognito team worked their butts off this year, I know I usually get mentioned by name, but Cognito is made up of a great team of guys including employees at the shop, friends, and sponsors that contribute to our program, thank you to everyone. We feel we have the best sponsors in the industry, and they helped Cognito get to a position in utv racing where everyone knows that we are one of the front runners of the class. Our sponsors stand behind us, and we are proud to put their products to the test and prove they are the best, that makes it easy for us to stand behind them as well.

Polaris builds a great UTV, and the RZR 4 XP1000 platform let us build a machine that is a threat at every race, they keep innovating and driving the utv market and we are proud to be factory sponsored.
Mystik Lubricants is the oil and grease of choice, after every race we analyze the engine oil and grease from cv joints, and it is obvious we made the right choice. We push these cars past what one would think is the limit, and that requires lubricants that protect and last. Mystik meets that demand.
Method Race Wheels simply put is the best wheel we have ever used. I know it's in the name, but they are not just for racing. They are the toughest affordable wheel out there and Method is also weight conscious, as are we. We use them on our utv's and our trucks.
ITP tires have not let us down all year. In 9 races this year, over 3000 miles, we have had only 4 flat tires. That is amazing when we have seen one team using a different brand, have 4 flats in one race! The Ultracross R Spec rolls nice and free, and has a lot of puncture resistance, as well as one of the lightest tires for its size. Obviously it is desert proven.
Fox shocks have been solid for us, for as long as we have been in the game. They have more development time with UTV shocks than anyone, shock tuning is an ever evolving art, and Fox never stops working on making their product better. Shocks and shock tuning are a huge factor in getting thru terrain as fast as possible. You will see Fox on every race, play, and chase vehicle we have.
Sparks Performance Products is the go fast go to spot. Our competitors ask us how we are so fast, there are several reasons and Sparks is one of the big ones. There are a lot of performance companies out there that make big claims, the proof is in the pudding.
Rugged Radios has been a big help, communication is key in desert racing, and it is a luxury for recreation. Rugged has been a vendor at the races all year, and their staff has the technical experience to make sure their product is on point.
Rigid Industries is the best in lighting period. There is a saying that imitating is a form of flattery, Rigid must be really flattered.