Jan 9, 2009
18,568
1,366
113
40
Magnum Offroad Joins The 2016 Polaris RZR UTV World Championship Powered By Monster Energy
Signs on to title sponsor the Magnum Offroad Youth Championship Races

UTVUnderground.com is thrilled to announce that Magnum Offroad has signed on to support and sponsor the 2016 Polaris RZR UTV World Championship Powered By Monster Energy. The long time UTV company specializing in custom fabrication, parts & accessories will title sponsor the Magnum Offroad Youth Championship races. The Polaris RZR UTV World Championship is the largest UTV race in the world and is the premier event where the industries top brands, racers, fans and enthusiasts unite to celebrate UTV racing and culture.
"Magnum Offroad has been a supporter of UTVUnderground.com since day one. To have them step up and join us in Laughlin, NV for the 2016 UTV World Championship is extremely exciting for us. Bigger than that is our excitement in having Magnum title sponsor the Youth Championship races which stole the show last year. Magnum Offroad shares our commitment in growing youth UTV racing which we believe is an integral part in the overall growth of our sport," stated UTVUnderground.com CEO & Founder, Joey DiGiovanni.
Magnum Offroad has been a driving force in the Polaris RZR 170 aftermarket, developing race winning RZR 170 builds and products for the past two years. In addition to sponsoring the Youth Championship races, Magnum Offroad will also be putting up prizes and awards for the young competitors competing in the event.
"All of us at Magnum Offroad are very happy to announce our participation and title sponsorship of the Polaris RZR UTV World Championship RZR 170 & 250 classes. For the past two years we have worked very hard to foster the growth of the RZR 170 race classes, and to give the younger drivers a place to begin racing RZRs and a good starting point to grow into the sport of off-road. After competing at last year's UTV World Championship event and having great success as a team with multiple class wins and podium finishes, we felt that it was only right to give back and support both the event and the young racers that made last year's event such a pleasure to be a part of. We look forward to continuing our involvement in growing the RZR 170 youth race classes and further developing our RZR 170 product line," stated President of Magnum Offroad, Danny Rosenzweig.
Magnum Offroad will be well represented in the Youth Championship races & Production Championship race by drivers like Seth Quintero (2015 Youth Champion), Kaden Danbury, Travis Sallee, Aiden Hayner, Enzo & Cristian DiGiovanni and the Collingwood boys!
Learn more about Magnum Offroad by visiting
www.MagnumOffroad.com
There is still time to sign your youth up for the 2016 Polaris RZR UTV World Championship race event. Winners of both the Magnum Offroad Youth RZR 170 & Unlimited 250 classes will receive brand new 2016 Polaris RZR 170s + additional awards & prizes! Visit
www.UTVWorldChampionship.com
for more information.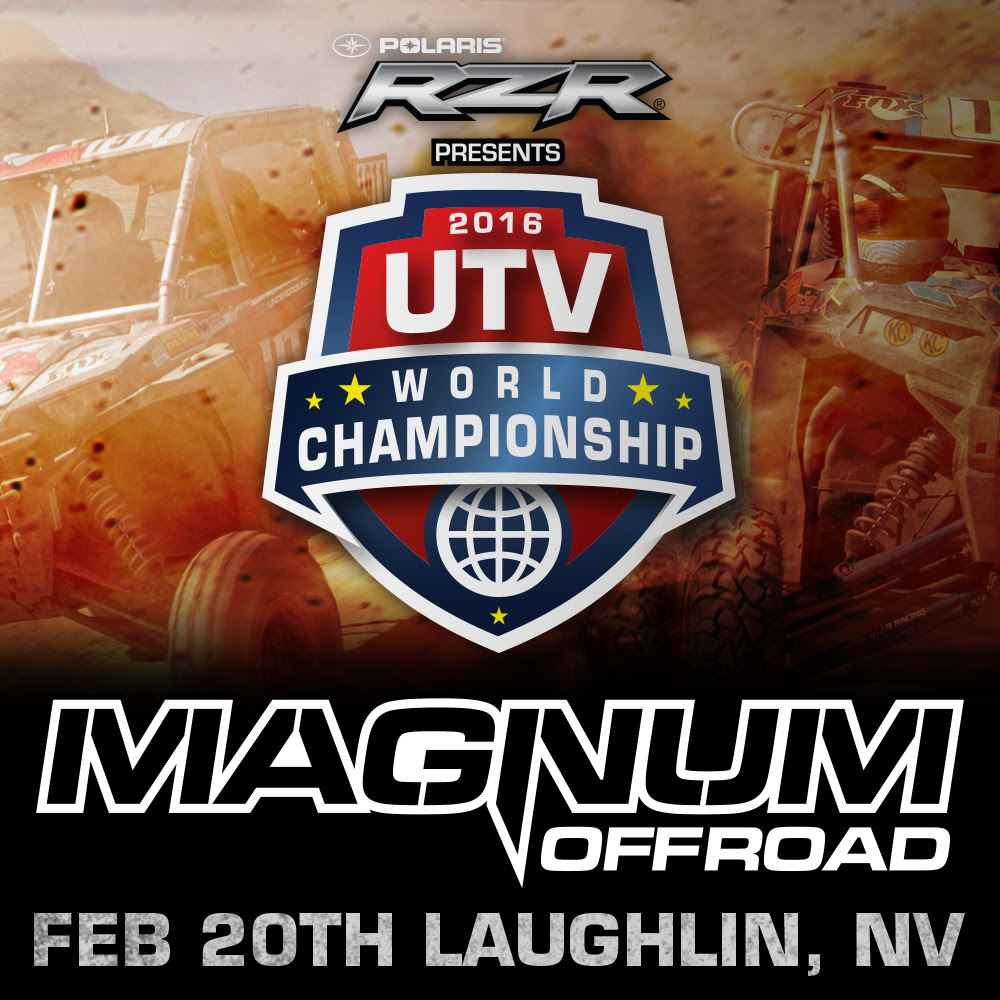 About The Polaris RZR UTV World Championship powered by Monster Energy
The Polaris RZR UTV World Championship powered by Monster Energy is the world's biggest UTV race and takes place every year in beautiful Laughlin, Nevada. The UTV World Championship draws the best UTV racers in the world to battle in both short course and desert races to decide who is the best UTV racer on the planet! The race features an ultra exciting side-by-side land rush start and intense door to door racing all the way until the checkered flag. The UTV World Championship has the biggest TV, online, and school media coverage in the sport of UTV racing.

About UTVUnderground.com
The world's fastest growing all inclusive UTV site contributed to by both enthusiasts and manufacturers alike. UTVUnderground is the go-to site for fresh, original content and is known for its dedication to hosting all of the latest news and insight surrounding the UTV industry. Thousands of monthly visitors from over 100 different countries around the world go to UTVUnderground.com for their daily dose of UTV news and information.