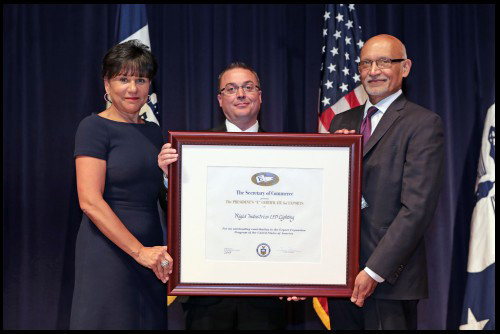 Rigid Industries LED Lighting is honored with the President's "E" Award on June 1, 2015 by the U.S. Secretary of Commerce Penny Pritzker in Washington D.C. for

significant contributions to increase the U.S. exports

. Rigid Industries is committed to providing top-notch, innovative quality technologies, exporting and increasing job growth in America.

Jason Christiansen, CEO of Rigid Industries, said, "It is a great honor to be a recipient of the 2015 President's "E" Award and to see the commitment to our company by our customers around the world. We're committed to US jobs and are proud to have every department from customer service, production, warranty, QC to engineering all together here in Arizona. We are always trying to push the envelope on new technologies with innovation and quality being our core principles."
What started in the garage of an off-road and power sports enthusiast in Mesa, Arizona ten years ago has since skyrocketed into a multi-million dollar corporation spanning three buildings, 250 employees, 9 vertical market industries and sales in 45 different countries around the world. In addition to direct employees, Rigid has grown employment at its vendor partners businesses across America by 805 jobs currently. The light bars and compact LED lights have found their place in a plethora of applications across industries such as: agriculture, construction, emergency response, industrial, marine, military, mining, and off-road and power sports.
U.S. Secretary of Commerce Penny Pritzker remarked, "When President Kennedy signed the executive order reviving the E Awards in 1961, he stated, "more exports will mean a stronger America…and greater assurance of a free world."
The collective effort between the private sector and our Administration has yielded tremendous results: 2014 was another record year for exports – totaling $2.35 trillion; today's 45 honorees also contributed over $2 billion in export revenue last year; and most importantly, exports support 11.7 million private sector jobs – an all-time high.
With Rigid Industries' advancements in the last ten years and the proven efficiencies of the Light-emitting diodes (LED) the company grew over 1500% two years running and doubling employed personnel year-after-year. Rigid Industries sells lighting products to 45 countries and offers marketing literature in multiple different languages, and has 90 different languages offered on their website, Dealer Portal and Blog to provide a local voice to a global brand name. Rigid believes that this high level of commitment to global brand-building are important factors in growing its foreign market sales over the past 3 years.
"We determine through market research what overseas markets to explore and then work very closely with Specialty Equipment Market Association (SEMA) and the Commerce Department to find the right strategic distributors and events," says Christiansen. SEMA awarded Rigid Industries in November 2014 with the Export Achievement Certificate in recognition of recent accomplishments expanding the market in the Middle East.
In February 2015, Rigid Industries announced its acquisition by Truck-Lite Co., LLC of Falconer, NY., a member of the PENSKE Corporation. Together, Rigid Industries and Truck-Lite will now offer the complete package of DOT, off-road and accessory LED lighting for not only on and off-road vehicular markets, but markets the world over in a wide variety of heavy-duty and commercial vehicle categories.
Both Truck-Lite and Rigid Industries take pride that their products are designed, engineered, and manufactured in the USA. With Truck-Lite's 59 years in existence, they have evolved and expanded their technology with headlights, safety lights, signal switches and emergency lighting. Rigid Industries has seen extremely fast paced growth as a leader in forward projecting lighting and it is approaching its 10th year in business. Total employment for the two companies is over 2,400. With customers already in 40 countries, both Truck-Lite and Rigid Industries look to expand their presence in the U.S., Europe, Australia and New Zealand in 2015.
As President Kennedy stated, commitment to exports will mean a stronger America and greater assurance of a free world.
More About Rigid Industries:
We ranked 150th in 2013 and 316th in 2014 on the Inc. 500 Magazine list and ranked as the fastest growing LED lighting manufacturer in America.
We are committed to providing top-notch, innovative technologies and always guarantees a quality product which has been designed, engineered, and assembled in the USA.