RIGID Industries Returns as Sponsor of The 2017 UTV World Championship
RIGID,The Leaders in LED Off-Road Lighting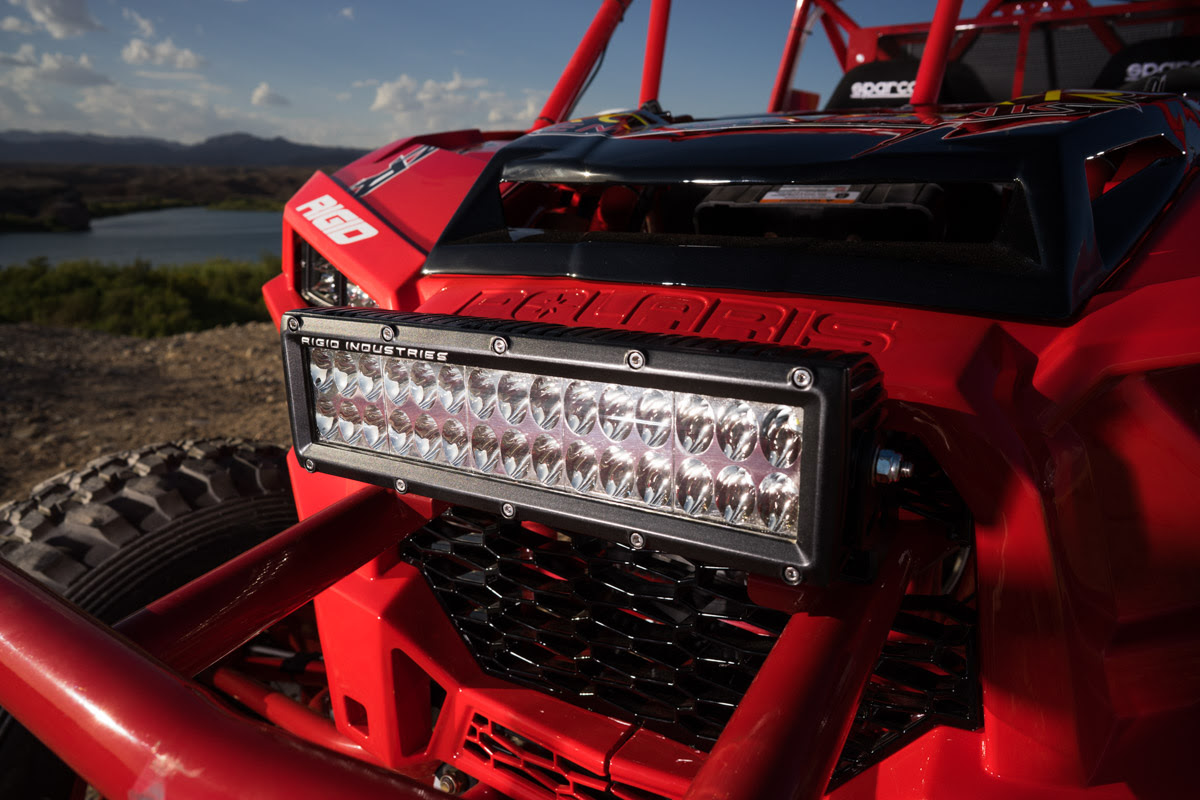 March 27, 2017 – San Diego, CA – The UTV World Championship announced today that RIGID will return as sponsor for the 2017 UTV World Championship being held April 13-15, 2017 in Laughlin, NV. RIGID is the leaders in LED off-road lighting systems and have continued to push innovation and technology in the UTV and off-road industry for over 10 years. RIGID joins the ever growing list of industry sponsors joining the 2017 UTV World Championship event.
RIGID is more than just a lighting company, they are huge supporters of UTV racing and have been long time sponsors of racers like Craig Scanlon, Justin Lambert, and Marc Burnett. RIGID will return to Laughlin, AZ to once again support the UTV World Championship, its racers and of course showcase their industry best lighting products to the thousands in attendance duringFriday's contingency event.
"Its a real pleasure to welcome back RIGID Industries to the 2017 UTV World Championship. RIGID is a long time supporter of UTVUnderground.com and has been a part of our events since day one. We couldn't be more excited to have them as a sponsor of this years UTV World Championship", stated UTV World Championship co-owner & UTVUndeerground.com CEO, Joey DiGiovanni.
The three-day UTV World Championship event format will feature one day of racing, contingency and tech in downtown Laughlin, and a day of demo and enthusiast rides and more. The UTV World Championship is part of the Best in The Desert (BITD) Off-Road Racing Association and will be marketed, produced, and televised by motorsports media heavyweights, Mad Media. The format brings together UTV desert racing, UTV short-course racing, and enthusiast rides into one massive multi-day event on the edge of the Colorado River in Laughlin, Nevada. The event has quickly become an important showcase for UTV manufacturers and aftermarket manufacturing companies to display and sell their products. Enthusiasts and racers will be able to pre-run the racecourse in stock UTVs during the "UTV World Championship Family Fun Poker Run".
For complete details on all the UTV World Championship festivities and spectating visit: www.UTVWorldChampionship.com
BOOK your stay with the Official UTV World Championship Host Hotel – the Riverside Resort Hotel and Casino and let's get ready to party! Be sure to book using our group discount code "UTVWC". Racers, teams, fans and sponsors can book their rooms now using the discount code "UTVWC" by calling (800) 227-3849.


More Information: Management by: Racer / Competitor Information:
www.utvworldchampionship.com Mad Media / UTVUnderground.com BITD.com
Matt Martelli / Joshua Martelli / Joey DiGiovanni
Sponsorship Inquiries:
[email protected] The UTV World Championship
2554 Pahvant St.
Media Inquiries: Oceanside, CA 92054
[email protected] (760) 721-3600 Facebook | Instagram | YouTube
About The UTV World Championship
The UTV World Championship is the world's biggest UTV race and takes place every year in beautiful Laughlin, Nevada. The UTV World Championship draws the best UTV racers in the world to battle in both short course and desert races to decide who is the best UTV racer on the planet! The race features an ultra exciting side-by-side land rush start and intense door to door racing all the way until the checkered flag. The UTV World Championship has the biggest TV, online, and school media coverage in the sport of UTV racing.
About Mad Media
Mad Media (www.madmedia.com) is a San Diego based marketing and creative agency, with in-house film and television production. We craft authentic, culturally engaging brand messages, and deliver them across print, web, photography, and film platforms. Mad Media has been leading the online content revolution since 1995 producing major commercial, television, online content and viral film projects such as The Gymkhana Series and XP1K Series.
About UTVUnderground.com
The world's fastest growing all inclusive UTV site contributed to by both enthusiasts and manufacturers alike. UTVUnderground is the go-to site for fresh, original content and is known for its dedication to hosting all of the latest news and insight surrounding the UTV industry. Thousands of monthly visitors from over 100 different countries around the world go to UTVUnderground.comfor their daily dose of UTV news and information.