SCOSCHE & UTV Wolfpack
Wolfpack Motorsports and Scosche Industries Partner for 2018 to Celebrate Off-road Adventure Lifestyle
Polaris RZR/Rockstar Driver: Jeremy Merrell Racing The Parker 250
Rockstar Energy Drink race team Wolfpack Racing and award-winning consumer tech/car audio/powersports products company Scosche® may be the perfect combination when it comes to promoting quality products that go hand-in-hand with off-road action.

Oxnard, CA (Feb. 15, 2018) – When it comes to good fits it's perfectly clear not everything works well with off-road racing. Few understand this quite as well as Rockstar Energy Drink race team Wolfpack Racing led by brothers Jason and Jeremy Merrell, recognized as authentic leaders in the space. In exciting news for the off-road adventure world, Wolfpack Racing recently announced they have made just the kind of connection that's truly electric by partnering up for 2018 with Scosche Industries, well known as leaders in consumer tech/car audio/powersports products; products clearly of interest to off-road adventurers.
"This is going to be a great combination and we are looking forward to what 2018 brings," commented Jason. "Seeing high-quality, rugged tech products from Scosche with Rockstar branding is amazing because we know these are things we can count on to hold up under the rigors of our lifestyle."Wolfpack shows their determination to create a winning Desert program, and has the dedication required to compete at the top levels of the sport. The amount of time required to prepare the car for a race often comes down to the wire. Wolfpack relies heavily on its sponsors during crunch time, and appreciates the support that they provide to their Desert Program.

"Scosche® makes a wide range of quality accessories that fit our rugged lifestyle" – Jeremy Merrell

Rockstar Energy / Scosche® BoomBottle® +, the rugged, waterproof, wireless, portable speaker.
"We are thrilled to sponsor a seasoned team like Wolfpack Racing as we continue to expand the scope and diversity of our sponsorship/ambassador program," stated Chris Cowles, Director of Marketing at Scosche. "Their dedication to the sport of UTV off-road racing and association with Rockstar Energy are a great fit with both our other Rockstar-related affiliations and of course our active outdoor lifestyle focus. This new relationship meshes well with our Optimized for Outdoors® consumer tech products, which includes our Rockstar Edition line-up, as well as our new array of powersports products."
Scosche also offers multi-function jump starter products that serves as a perfect tool to carry in a race vehicle in case the UTV has power issue or a battery goes dead.

Scosche recently debuted a line-up of rugged, weather-resistant powersports products under the TerraClamp™ name. These products make it simple to secure everything from mirrors, to fire extinguishers to speakers in a reliable, affordable and visually-appealing way. And coming in Spring 2018 will be the company's new BaseClamp series of
powersports mounting products.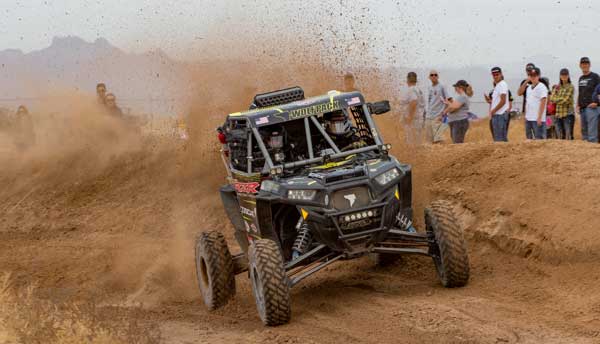 Scosche RACE SHOP READY

Scosche® in the Wolfpack race shop, Professional garages require products built to withstand the rigors of and to enhance the utility of locations built for work; places where equipment, tools, chemicals and more create a setting constructed for the engineering, building, repairing, and customizing vehicles and craft of all types.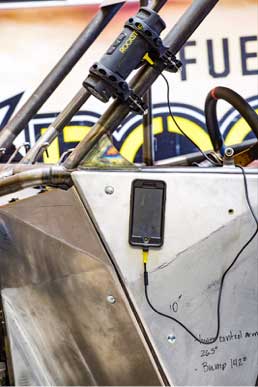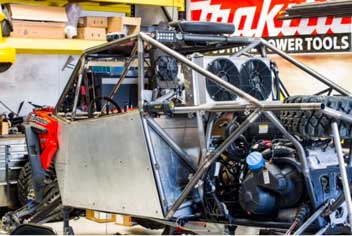 2018 is certainly set to be an exciting year for both Wolfpack Racing and Scosche. Be sure to watch Wolfpack Racing compete in prestigious off-road events like the upcoming Mint 400 in Las Vegas in March 2018.
About Wolfpack Racing

The Merrell brothers got their start in offroad racing over 15 years ago, and have brought their years of knowledge over to the UTV racing circuit in 2011, creating Wolfpack Racing. They quickly realized that the UTV aftermarket was severely lacking in parts that would hold up to the rigors of offroad racing, so out of necessity Wolfpack UTV Parts was born.

About SCOSCHE (pronounced skōsh)
Founded in 1980, SCOSCHE Industries is a Ventura County-based, award-winning innovator of consumer technology, powersports and car audio products – committed to delivering superior product quality and functionality, exceptional value and unmatched customer service. The designers and engineers at SCOSCHE develop products that reflect a rich heritage in audio and mobile technologies. SCOSCHE finds inspiration in the California lifestyle, culture, music and people. These influences can be seen in the accessories and products that are now in the hands, homes, offices and vehicles of people in over 50 countries. With hundreds of patents/trademarks and countless industry awards received, it is easy to see why SCOSCHE is consistently at the forefront of technology and innovation.